Dinner
In the Wilderness
Home
Recipes for Breakfast
You have clicked on the Breakfast link, so it is safe to assume that you want breakfast recipes. Thus, you have come to the right place. Below are some recipes for breakfast that you can make for yourself in the morning(assuming you eat breakfast in the morning). Here are a few good tasting dishes from Food Network:
For this first dish, we will be making Cheese Danish. You will need the following ingredients:
1 large egg plus 1 yolk
8 ounces cream cheese, softened
3 tablespoons sugar, plus more for dusting
1 teaspoon lemon juice
1/4 teaspoon vanilla extract
One 17.3-ounce box frozen puff pastry sheets, thawed
With these ingredients, lets get started:
Preheat oven to 400 degrees F.
Beat egg with one teaspoon of water
Beat the egg yolk, cream cheese, sugar, lemon juice and vanilla on a electric mixer on medium setting. Do this until it is smooth
Cut two sheets of puff pastry into four squares, fold each corner into a octagon shape.
Spread the texture evenly in the center. Do not spread the cream cheese
Brush exposed parts with egg wash, then dust with sugar
Bake until the entire thing is puffed and golden brown for about 18 minutes.
Slightly cool it before eating it.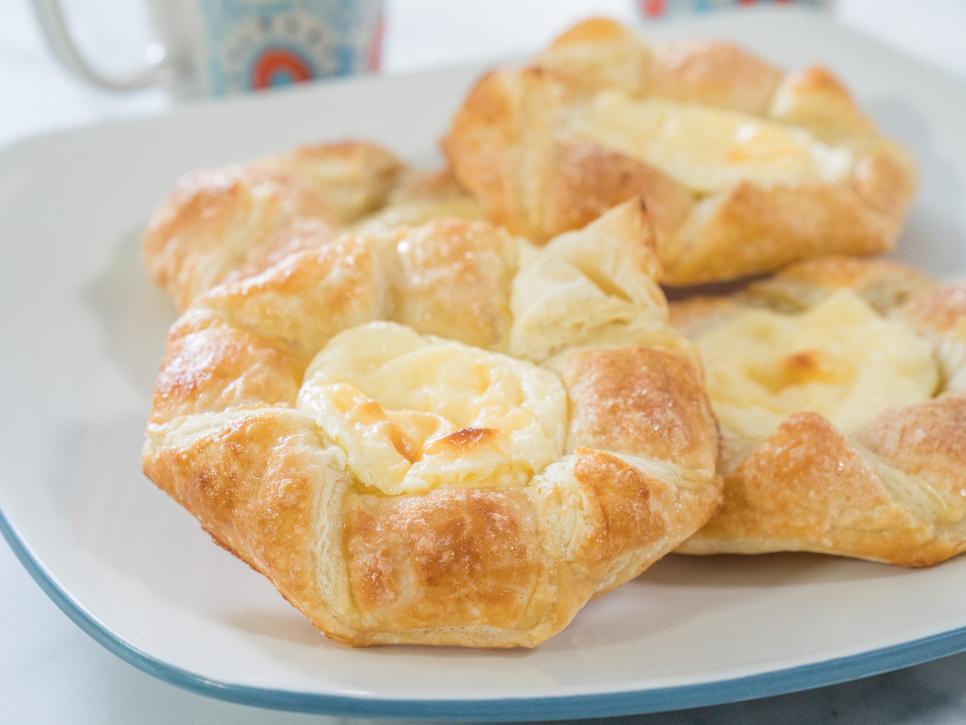 For this next dish, we will be making Breakfast Burritos with Chorizo. You will need the following ingredients:
2 medium tomatillos (about 4 ounces), husked and rinsed
1 jalapeno pepper (remove seeds for less heat)
1 small red onion, quartered
2 cups roughly chopped fresh cilantro (leaves and tender stems)
Juice of 1 lime
Kosher salt and freshly ground pepper
4 ounces dried chorizo, thinly sliced
3 1/2 cups frozen shredded or diced hash brown potatoes (about 1 pound)
4 large eggs, lightly beaten
1 16-ounce can low-sodium refried beans
4 10-inch flour tortillas, warmed
1 cup shredded mozzarella cheese (about 4 ounces)
With these ingredients, lets get started:
Preheat broiler
Put tomatillas, jalapeno and red onion on a baking sheet and broil, turning once, until tender and charred in spots.
Do this for 10 minutes
Meanwhile, put the veggies to a blender and add cilantro, lime juice, 1/4 cup water, 3/4 teaspoon salt, and some pepper
Do this until smooth
While this is going on, cook the chorisa in a large, nonstick skillet over medium heat.
Stir it occasionally until it is crispy for about two minutes
Put this onto a larger bowl with a slotted spoon. Add potatoes to the drippings in the skillet.
Cover it and cook it, stir it halfway, and do that until golden brown for about 8-10 minutes.
Add to the same bowl with the choriza and stir it.
Add the eggs to the skillet and scramble them until cooked for about 1 minute. Transfer the eggs to a bowl and cover it.
Wipe out the skillet and add the beans; warm through. Season with salt and pepper. Spread the beans in the center of each tortilla and top with the potatoes, chorizo, eggs and cheese
Fold the bottom edges and roll it up
Serve the burrito with the tomatillo salsa